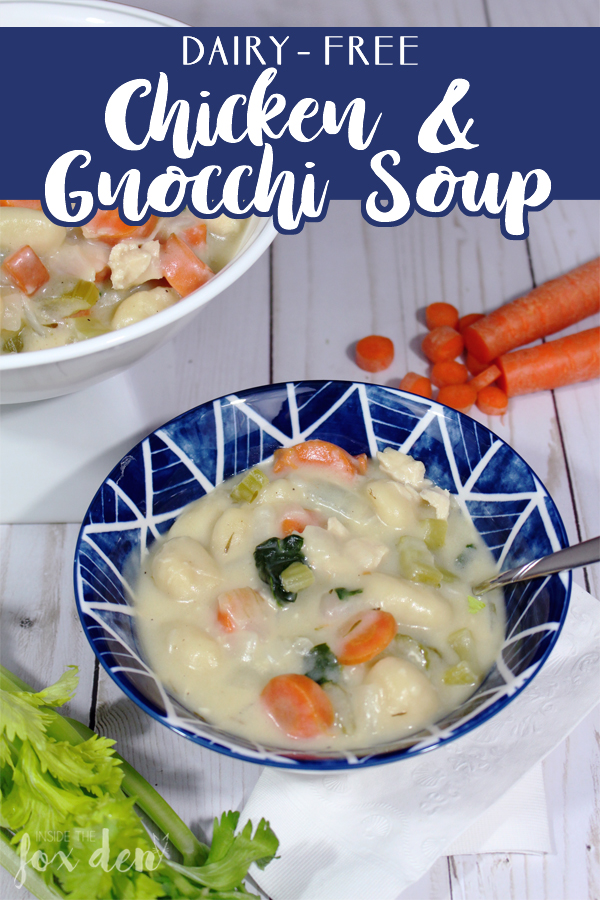 Hi friends,
Welcome to the first 2018 monthly Pinterest Challenge Blog Hop, hosted by My Pinterventures. The purpose of this Pinterest Challenge is to motivate all the participants of this hop (and you too) to not just pin, but to make it happen! So this month, I chose to make a dairy-free version of Olive Garden's Chicken & Gnocchi Soup based on A Bite of Inspiration's pin.
I'm not vegan or 100% dairy-free (I love me my meats and cheeses), but I'm finding that I can't eat as much dairy as I used to. Olive Garden's Chicken & Gnocchi soup is one of my all time favorite soups and I've always wanted to try and make a copycat recipe at home. When I stumbled across a dairy-free version that promised to be just as tasty as the restaurant's version, I figured I'd give it a go! But I will be completely up front with yinz, Olive Garden's is 150% better. Not that this recipe isn't good (it is!) but it's an acquired taste. Check out the original recipe below and note what I would do differently next time in bold.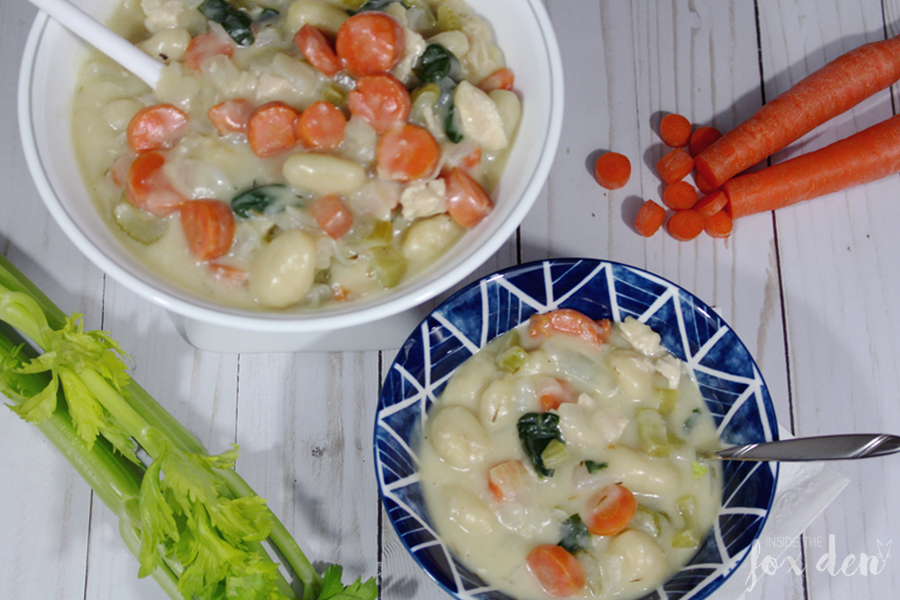 Ingredients
2.5 cups chicken broth
2 cups dairy-free half-and-half (This recipe calls for a dairy-free half-and-half which uses coconut cream and soy milk. The original recipe used coconut milk where the cream separated and you mixed it with soy milk. I decided to cut out the middle man and just buy straight coconut cream and used almond milk since I had it on hand. This may have caused a weird chemical imbalance, I'm not a professional chef, but the soup had a slight coconut taste to it. Like I said, an acquired taste.)
½ teaspoon dried thyme (This made it wayyy too strong smelling. I would at least cut it in half.)
⅛ teaspoon nutmeg
1 cup carrots, finely shredded (Shredding is a pain in the butt. Chop 'em!)
1 cup fresh baby spinach
1 lb potato gnocchi
1 cup cooked chicken breast, diced or shredded
3 tablespoons vegan butter
1 tablespoon olive oil
3 tablespoons all purpose flour
3 garlic cloves, minced (The next time I make this, if I make this, I may add 2 more cloves to overpower the coconut taste.)
1 onion, diced
3 celery stalks, diced
Salt and pepper to taste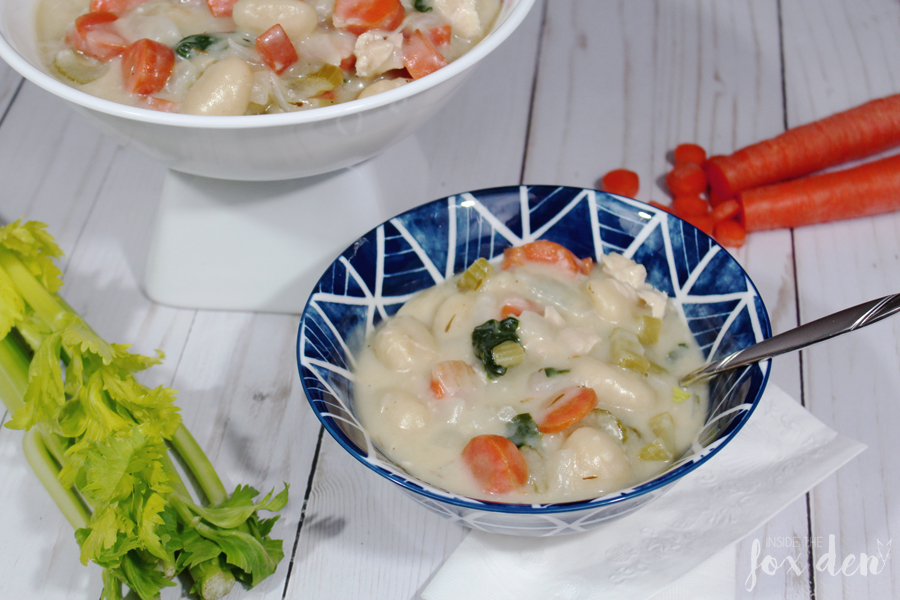 Instructions
1. Heat oil and butter in a large stock pot or dutch oven over medium-high heat.
2. Add onion, celery, and garlic to the pot. (If you chop your carrots, add them now. If you shred them, wait for step 8.) Cook for 4-6 minutes until veggies are soft and starting to brown.
3. Add flour and stir for 30 seconds.
4. Add dairy-free half and half. Stir well. Heat to a boil.
5. Once boiling, reduce heat to low. Simmer for 2-3 minutes until soup starts to thicken a bit.
6. Add chicken broth. Stir well.
7. Add dried thyme and nutmeg. Stir well. Allow to cook for 1 minute.
8. Add carrots and gnocchi. Cook for 2-3 minutes until gnocchi are done.
9. Stir in baby spinach. Cook for 1 minute more then remove from heat.
10. Serve hot! Enjoy!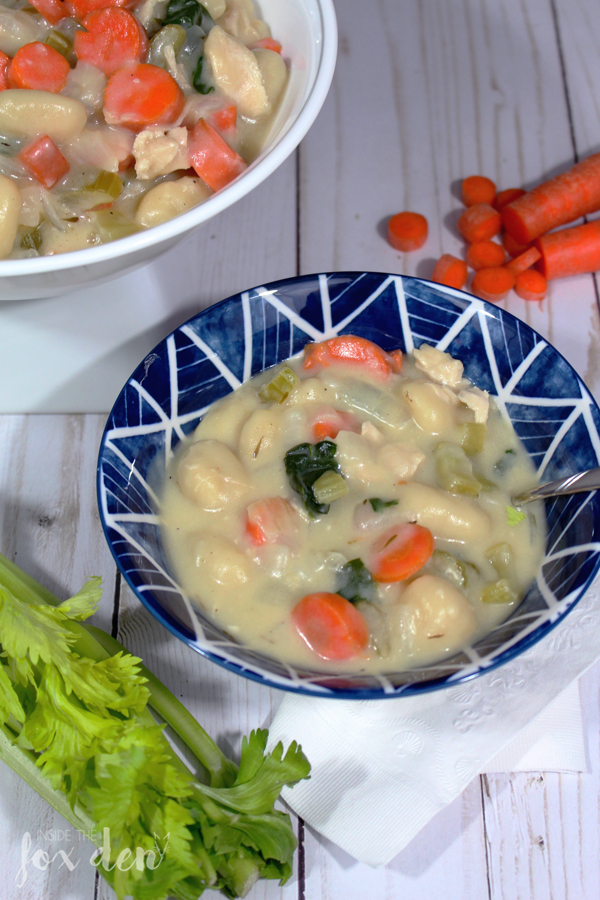 To join next month's challenge, click below to sign-up!
---
Now let's see what other things Pinterest inspired! Head over and visit the other hosts to see what they crafted, cooked, built, or tried!
Erlene – My Pinterventures • Shirley – Intelligent Domestications • Michelle – Our Crafty Mom
Molly – Just a Little Creativity • Marie – DIY Adulation • Jenny – Cookies Coffee and Crafts
Joanne – Our Unschooling Journey • Emily – Domestic Deadline
Trisha – Blowing Away Out West • Sam – Raggedy Bits • Lynne – My Family Thyme
Beverly – Across the Blvd. • Debra – Shoppe No. 5 • Lauren – Mom Home Guide
Emily – Domestic Deadline • Heather – Glitter on a Dime • Gwen – Geez, Gwen!
Kristie – Teadoodles • Kelly – Under A Texas Sky • Roseann – This Autoimmune Life
Chelc – Inside the Fox Den • Candice – Fearlessly Creative Mammas • Megan – C'mon Get Crafty
---
Loved it? Pin it!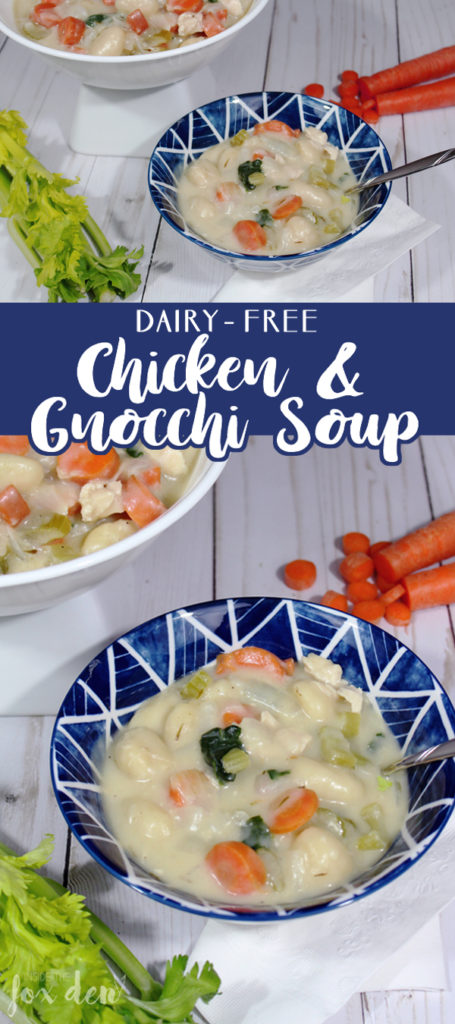 ---
Liked this Dairy-Free Chicken & Gnocchi Soup Recipe?
Check these other warm, comfort food recipe posts too!