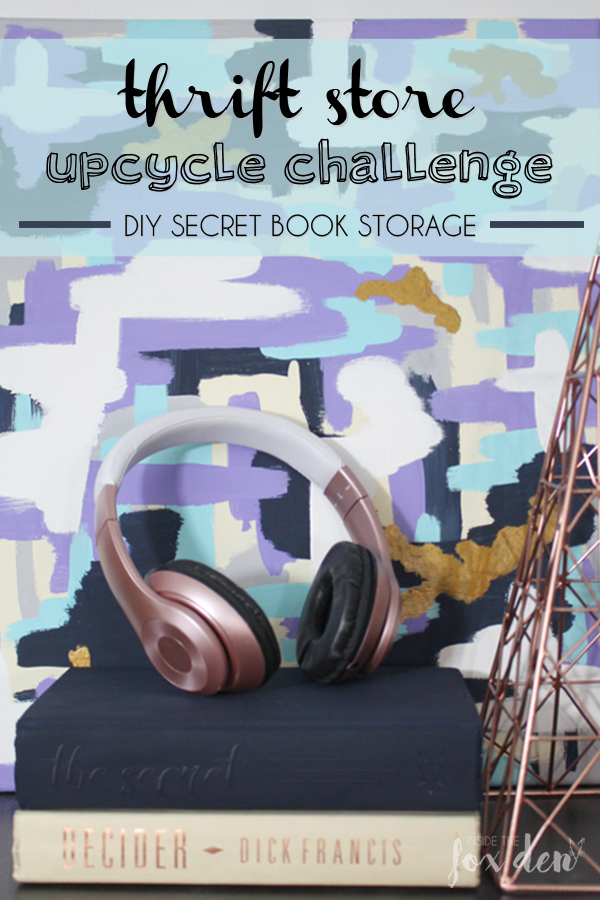 Hi friends,
I've seen this done a million different times on the internet and I always wanted to have my own little secret book storage. Keep reading for the tutorial below!
The Rules:
Upcycle an item(s) from a thrift store, resale store, or garage sale into a new piece of decor.
There's no monthly theme.
There's no budget to stick to.
Meet the Hosts!
Amanda | The Kolb Corner Maureen | Red Cottage Chronicles Kim | Made in a Day Dru | Polka Dot Poplars
Erlene | My Pinterventures Pili | Sweet Things Ann | Duct Tape and Denim Debra | Shoppe No. 5
Marie | DIY Adulation Chelsea | Making Manzanita Molly | Just a Little Creativity Ashley | 3 Little Greenwoods
Kimm | Reinvented Michelle | Our Crafty Mom Ali | Home Crafts by Ali Sara | Twelve on Main
Chelc | Inside the Fox Den Kim | Farmhouse Made Victoria | Dazzle While Frazzled Jennifer and Vicki | 2 Bees in a Pod
Lora | Craftivity Designs Denise | My Thrifty House Havalah | Sisters, What Jeannee | Shepherds and Chardonnay
Kathleen | Our Hopeful Home Jeanie | Create & Babble Michelle | Michelle James Designs
---
The struggle was real during this month's upcycle challenge. If you follow me on Instagram and watched my story over the past couple of days, you know that I changed my DIY project one day before it was due. Because I just want to watch the world burn.
So because I had one day to do this month's project a needed to do something easy. I had wanted to do this project for years and had planned to do it a couple months down the road but it ultimately got moved up on my schedule because I'm a responsible adult who waits 'til the last minute to do everything blog related. #truelife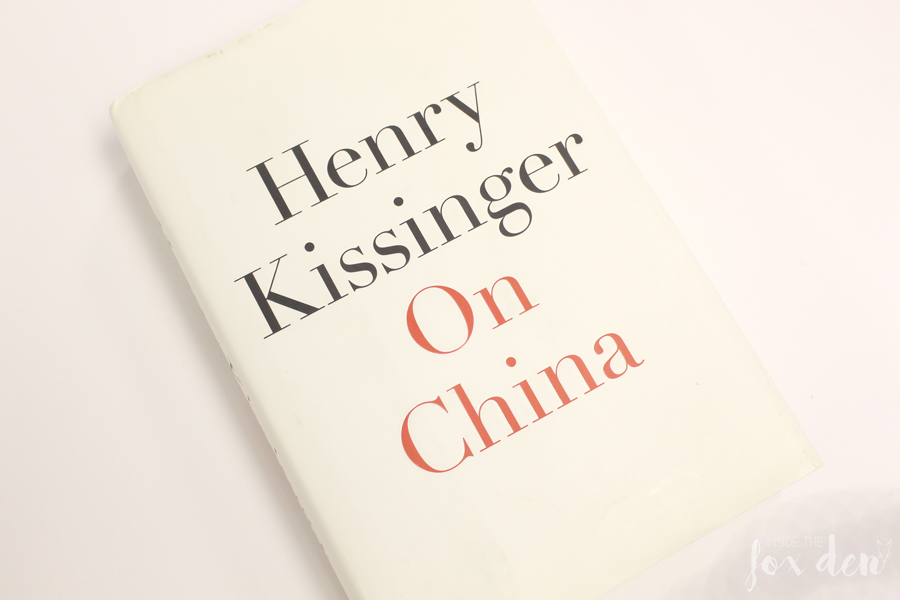 Supplies Used
Used book
Mod Podge
paint brushes
metal ruler
pencil
chalk paint (your choice of color)
white spray paint (optional)
Instructions
1. I knew I wanted a big, thick book so I searched and searched until I found one. This Henry Kissinger (who I kept calling Harry all day, not sure why) book jumped out at me and I knew that it'd be the one. Make sure that whatever book you pick up you pay attention to the actual hardcover, not the sleeve. I knew that I didn't want my secret book storage to have a book sleeve and would toss it, so it was ok that it wasn't in the best condition.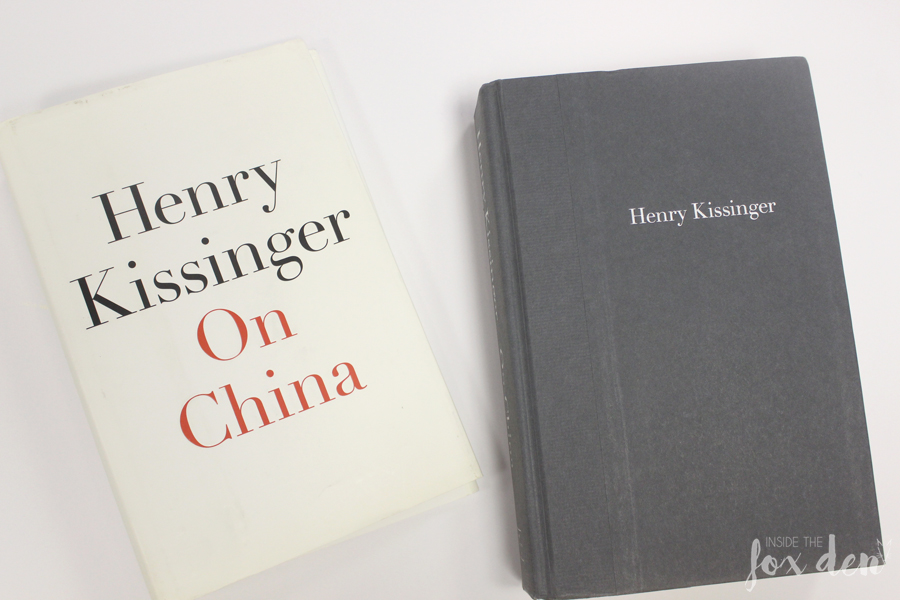 2. Using some Mod Podge I applied a few layers all over the edges of the pages. Let completely dry.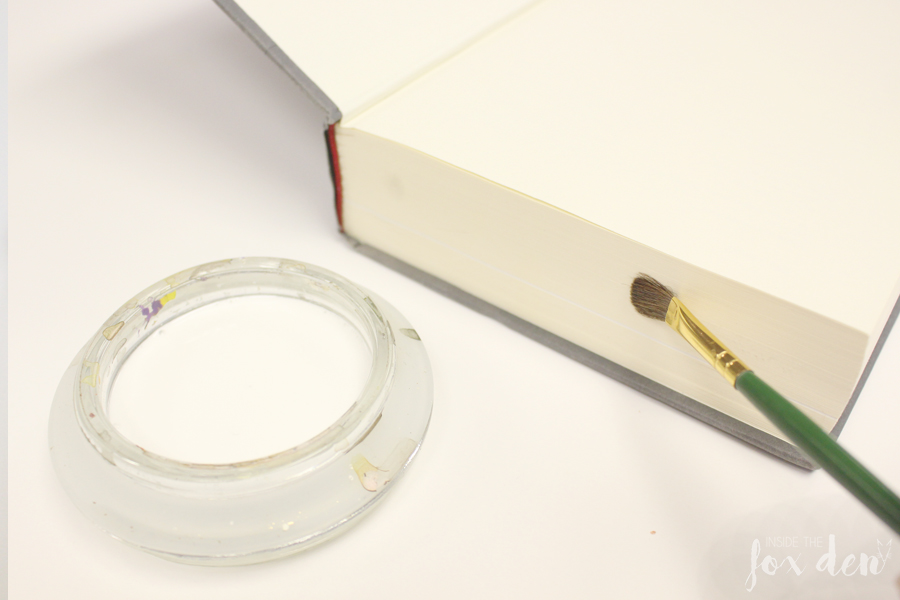 3. I took a ruler and mapped out where I wanted to cut, but decided that it was too small. So I enlarged it a bit and it was just right.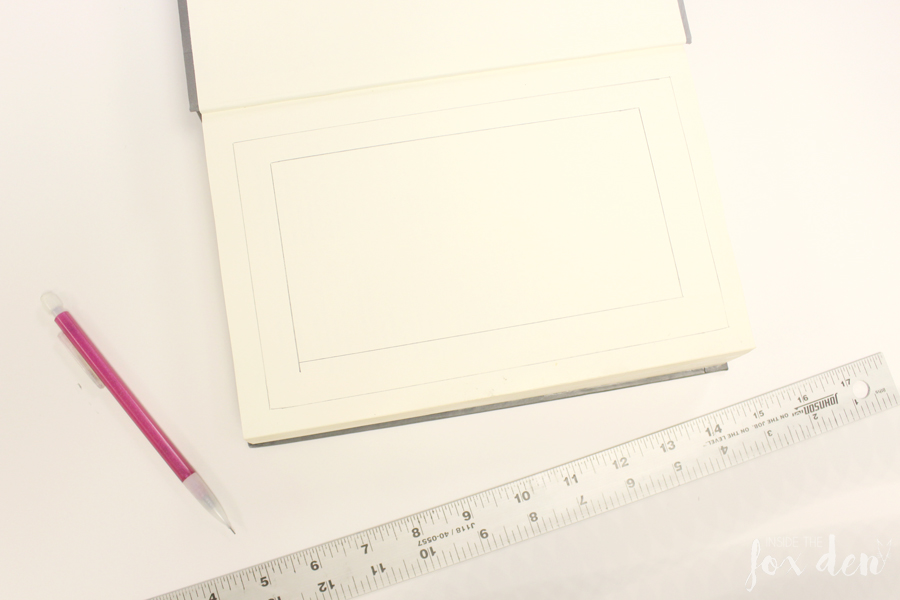 4. Once you have the area you know you want to cut, get to it! It's super tedious so put on some Netflix or something to keep you entertained. Do not work on it near or around your cat because she will be a jerk and bat millions of paper shreds all over the floor. ;)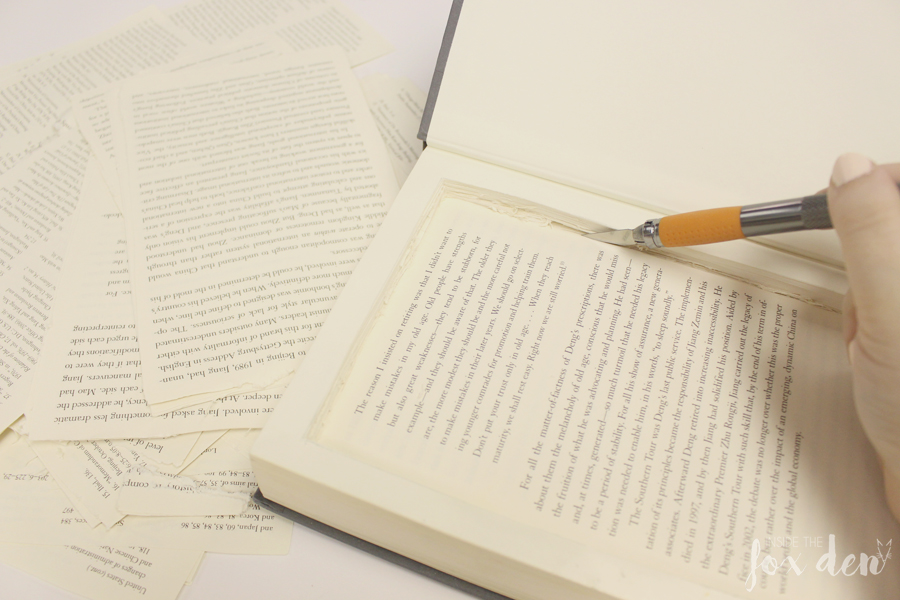 5. I decided to stop cutting at about 1″-ish down, but you can do it more or less depending on your preference. After you have the depth you want, apply a few layers of Mod Podge on the inner edges of the pages. Let completely dry.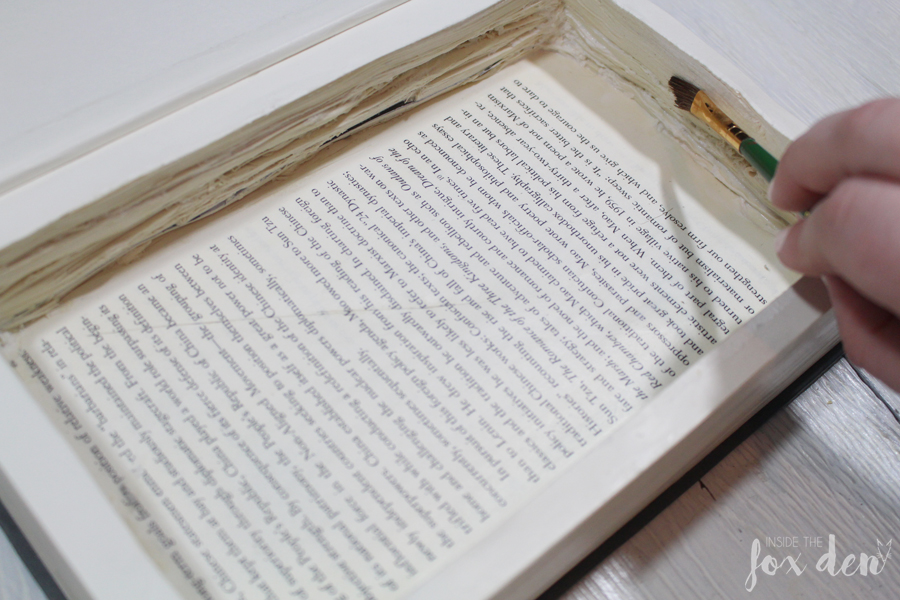 6. This part is 110% optional, but the pages of the book were dirty off-white and that just didn't go with my aesthetic. I lightly spray painted them a bright white and I like it so much more. :)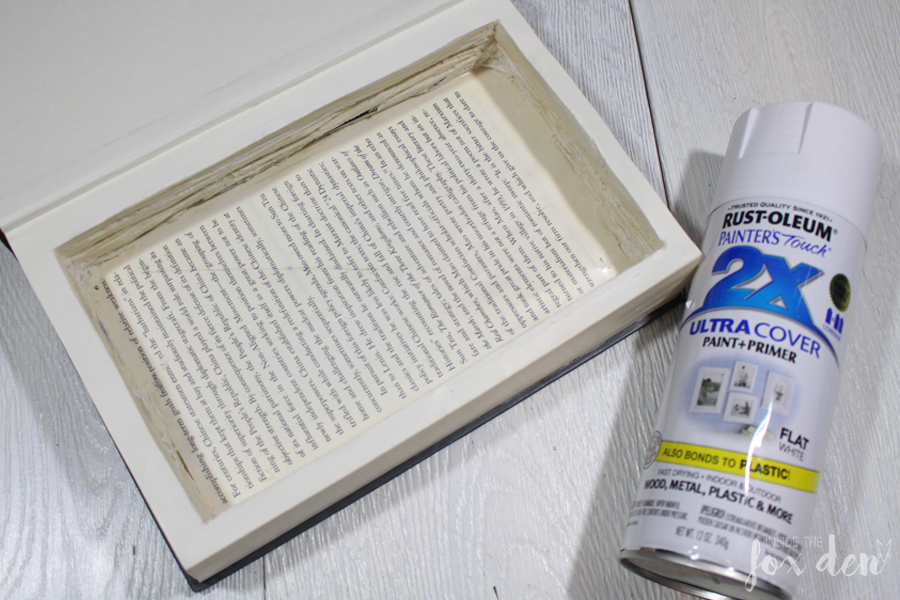 7. I painted the outside a navy blue with chalk paint (love the finish!) and let it dry completely. There's another optional step, that that's to paint the inside. Because I didn't really feel like reading about Chinese foreign policy every time I opened my secret book storage, that's what I decided to do. I painted the inside the same color as the outside but you could also paint it a nice complimentary color or a color that "pops" when you open it.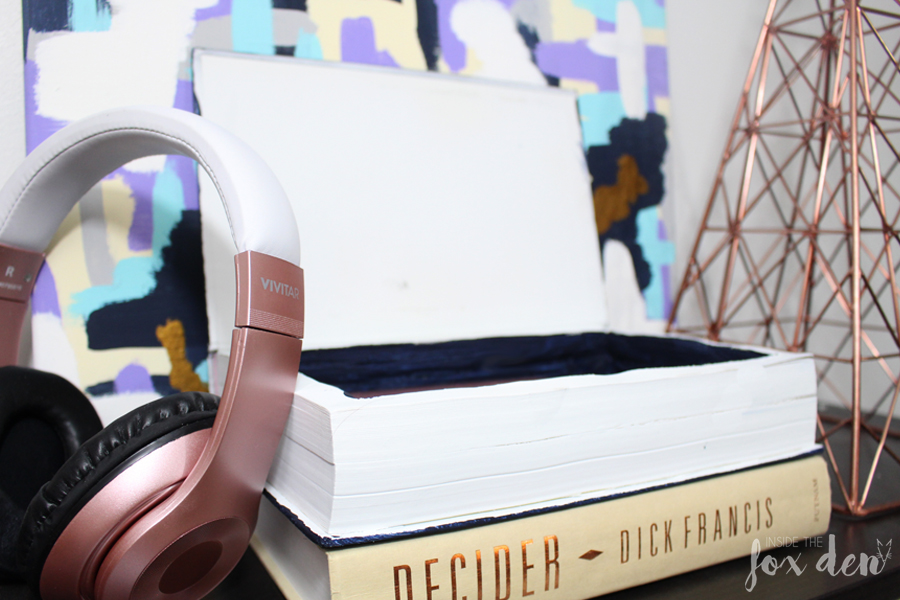 This helps reduce the clutter on my nightstand soooo much. I love that I can be potato and just put bobby pins, hair ties, earrings, or anything else that I'm too lazy to get out of bed to take off in there and go to sleep.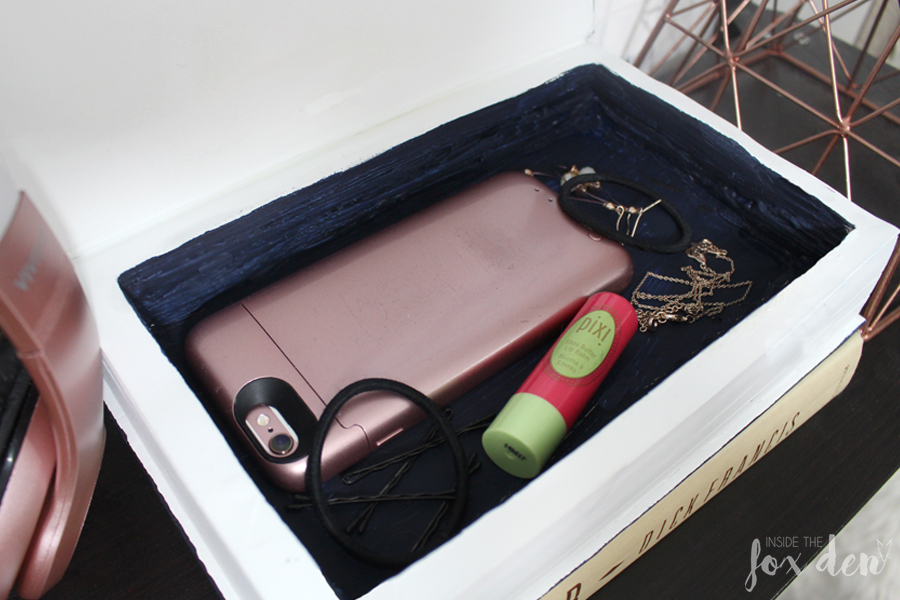 Also, because I'm extra, I painted a silly book title on the spine. Be sure to look out for "The Secret" in your local bookstore! ;)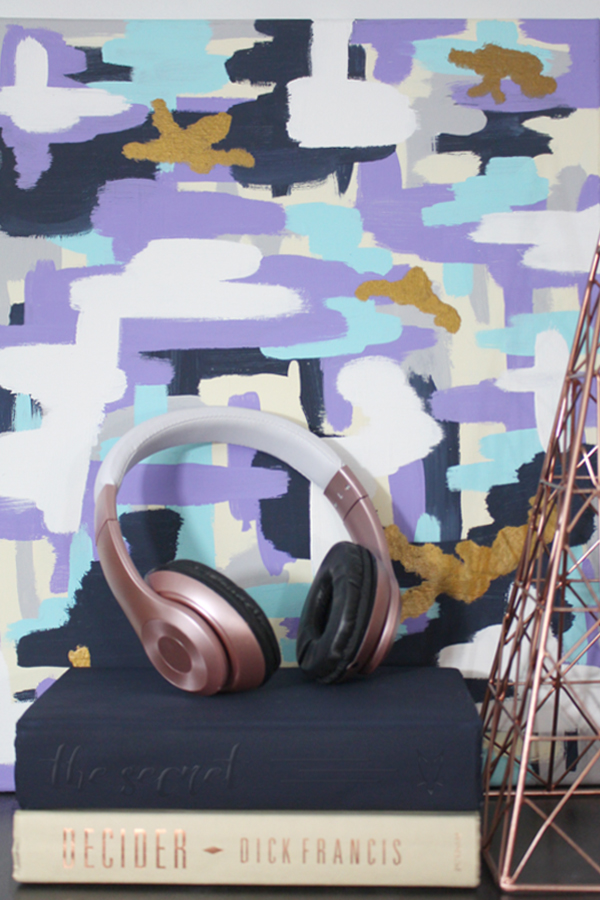 Do you guys have any storage hacks? Let me know in the comments!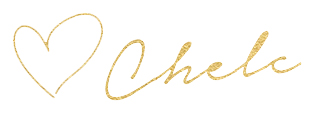 ---
And now for more thrifty goodness!
Check out what my fellow upcyclers created below!
---
Liked the DIY Secret Book Storage project? Check these out too!