This post may contain affiliate links for you to easily find products mentioned. If you click a link and make a purchase, I get a small commission which helps keep the Fox Den up and running. My complete disclosure policy, is here. While I did receive these products for free from Stencil Revolution, all opinions are mine alone.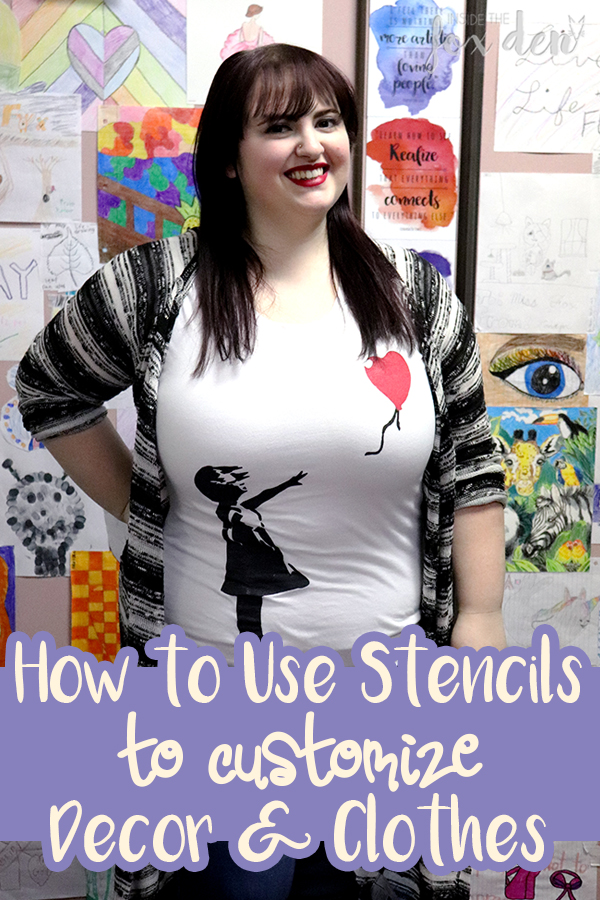 Hi friends,
Whether it's at home or my classroom, I love adding touches of customization to decor, clothes, lessons, EVERYTHING! When Stencil Revolution reached out to me to see if I wanted to try some of their stencils, I jumped at the chance to make some cute, custom things for my classroom.
Before we get into the projects though, let me tell you a little bit about Stencil Revolution. They are a small, family-owned stencil shop based out of Florida who makes reusable stencils for crafters and DIYers with a laser cutter. They have so many different categories, themes, and sizes to choose from on their products page! I already have my eye on this Honeycomb Stencil for when I redo the loft in the near-ish future. ;)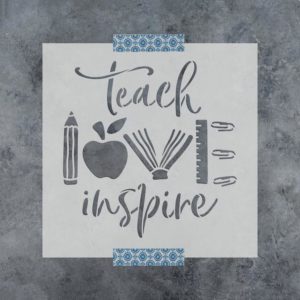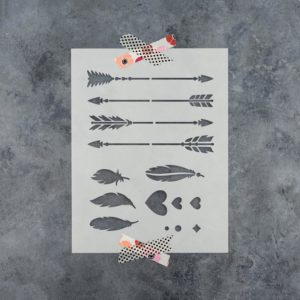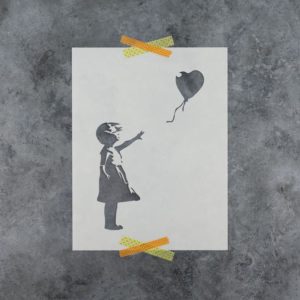 I looked through all of the products and had a hard time narrowing down my selection, but ultimately decided on the "Teach, Love, Inspire", the Arrow Kit, and the "Girl With a Balloon" Banksy recreation. Because #artteacherlife.
The first thing I was going to make was this sign that I picked up from the Target Dollar Spot. Now, I picked this up right after Christmas and I totally forgot that it went from red to white. I thought it was just pinks and reds so I planned on using either pure white or off-white chalk paint. And then I got home, panicked, and couldn't decide if I should stick with my original plan or use black instead. But Instagram pulled through and decided for me that white looked best.
I got the stencil in the size 6″x6″ which, in retrospect, may have been a bit small. I wish I had gotten one size up, but I'm still really happy with the final product. Because the sign was a little slippery, I used painter's tape to keep the stencil in place.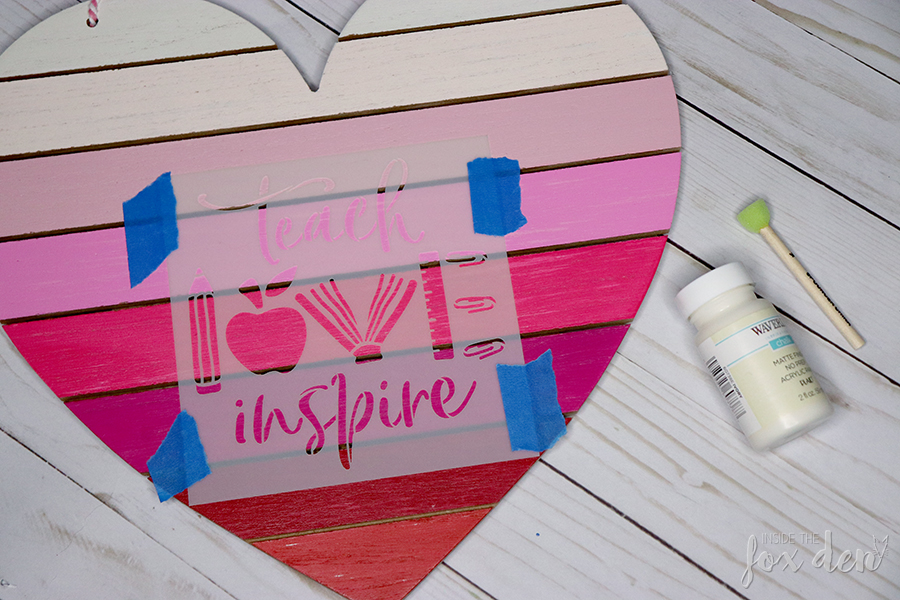 One tip I learned is to NOT overload your brush. I used foam sponge brushes and, at the time, I didn't think I was using too much. In fact, I thought I wasn't using enough. You should still be able to see the porous surface of the sponge because if you don't, this will happen.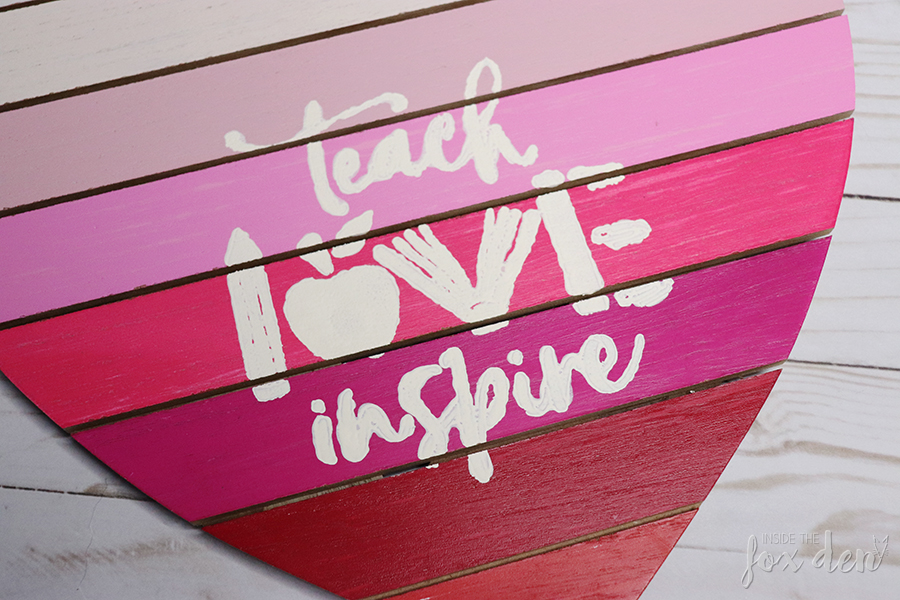 The words "teach" and "inspire" don't look too bad but I completely lost the details of the "love". I knew I was going to use an accent color for the arrows, so I decided to use the teeniest paintbrush I could find and outlined the words in Navy. I used the arrow kit in a different way. Because I wanted the arrows to have a "whimsical" look to them, I used the tops and the bottoms of the arrows and painted swirls to connect them.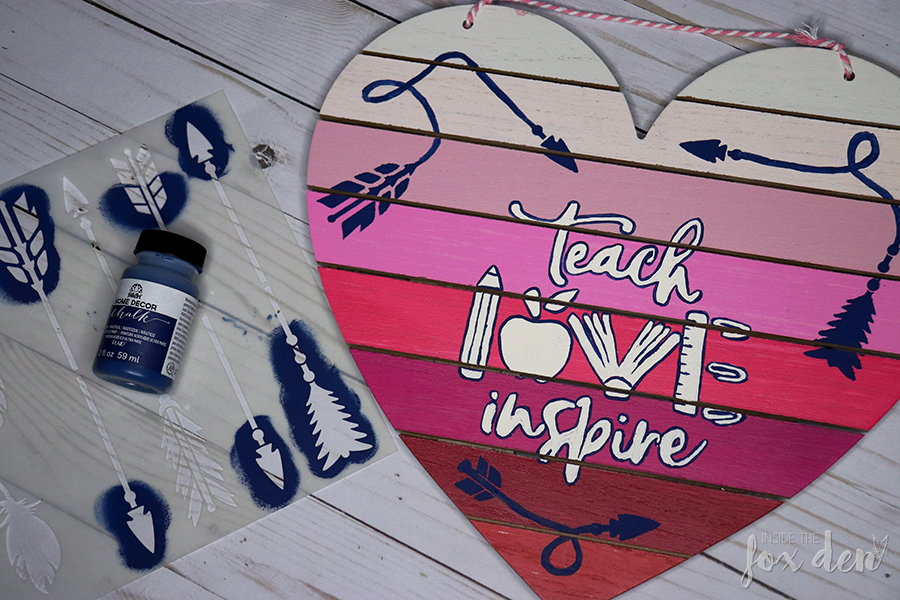 Because this was going to hang in my classroom, I thought it would be really nice if I had my homeroom kids sign it. It was the perfect finishing touch!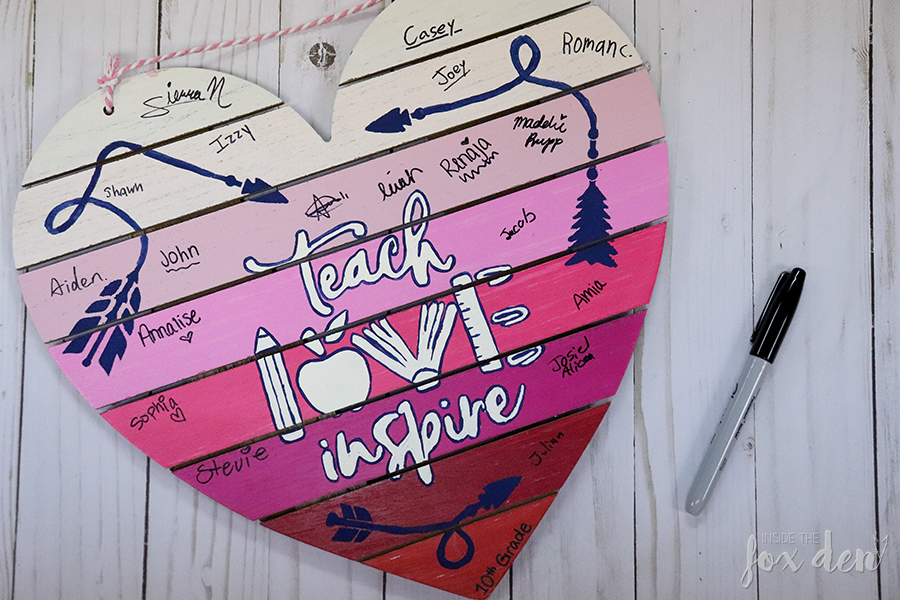 So I had my homeroom covered, but I wanted to incorporate my art classes too. I used the Banksy recreation stencil to make an art-themed shirt that I could wear on Valentine's Day. Before you start working with the stencil though, make sure you put something up the shirt so that the paint doesn't bleed through to the back.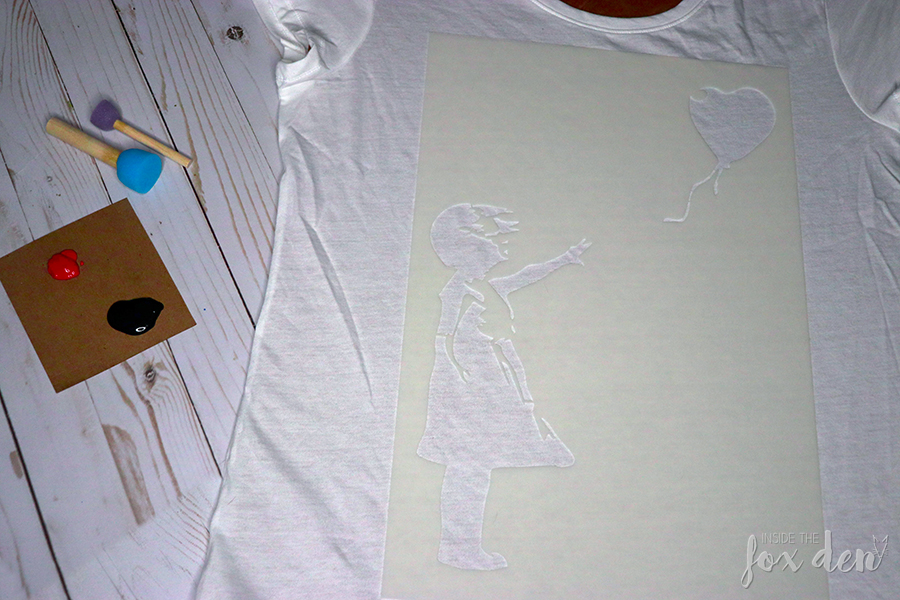 When using the stencils on fabric, you want to make sure that you apply pressure to the stencil so that it doesn't move and the fabric doesn't pick up. When the brush has paint on it, it almost acts as Velcro and as you pull up on the brush, sometimes the fabric comes with it. If you apply pressure to the stencil and work in small sections, the chance of this happening will be reduced.
This was the perfect shirt to wear! The 18″x12″ size was perfect for a shirt and I definitely have a lesson plan for my elementary kiddos stirring up in my brain.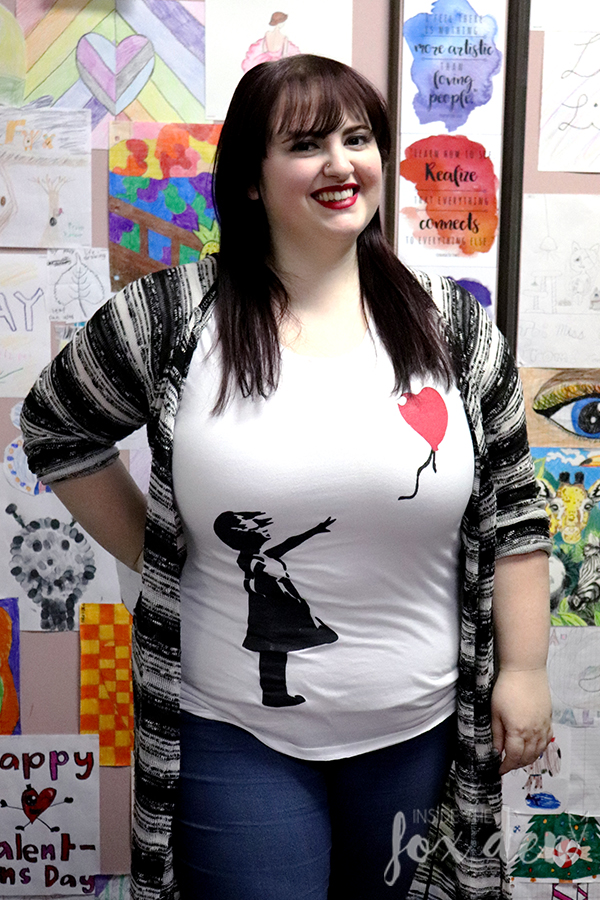 Because Stencil Revolution is so awesome and wants you to try some of these stencil DIYs for yourself, we're partnering and doing a giveaway! One lucky person will get $40 worth of stencils to use in a project! The rules are simple:
Find the photo below on Instagram and give it a like!
Follow @insidethefoxden on Instagram
Follow @stencilrevolution on Instagram
Write in the comments what project idea you have using Stencil Revolution's stencils and tag a friend.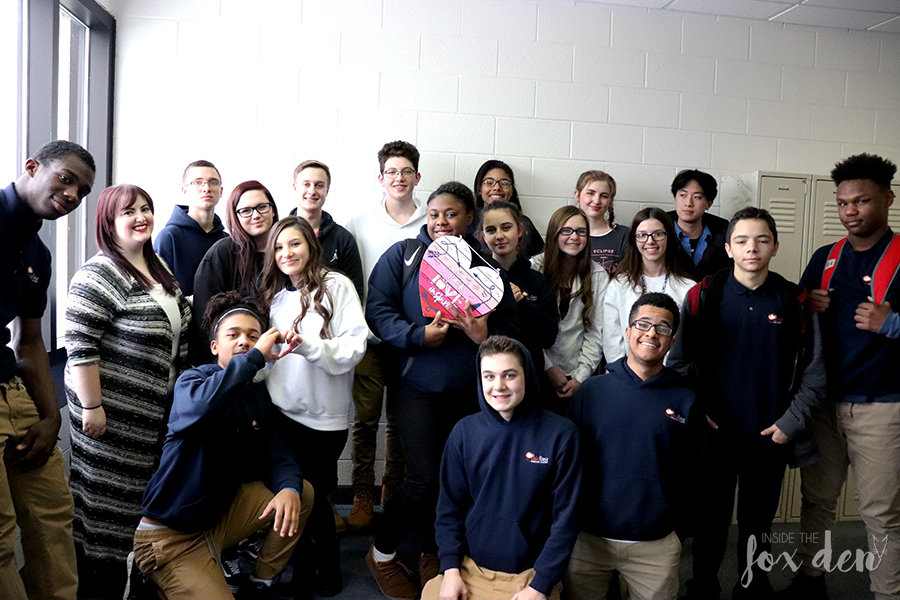 The giveaway will be open until Friday, February 22nd and is open to U.S. residents only.
So, which project was your favorite? Personally, I love the sign because now it has a piece of me and a piece of my kiddos incorporated. I also really like the shirt and actually have another post using it coming Monday!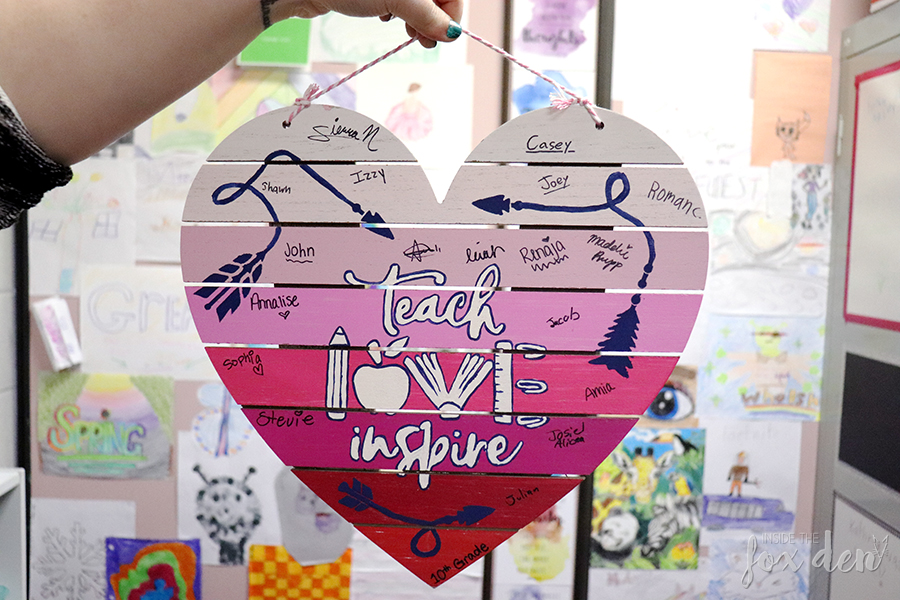 ---
Loved it? Pin it!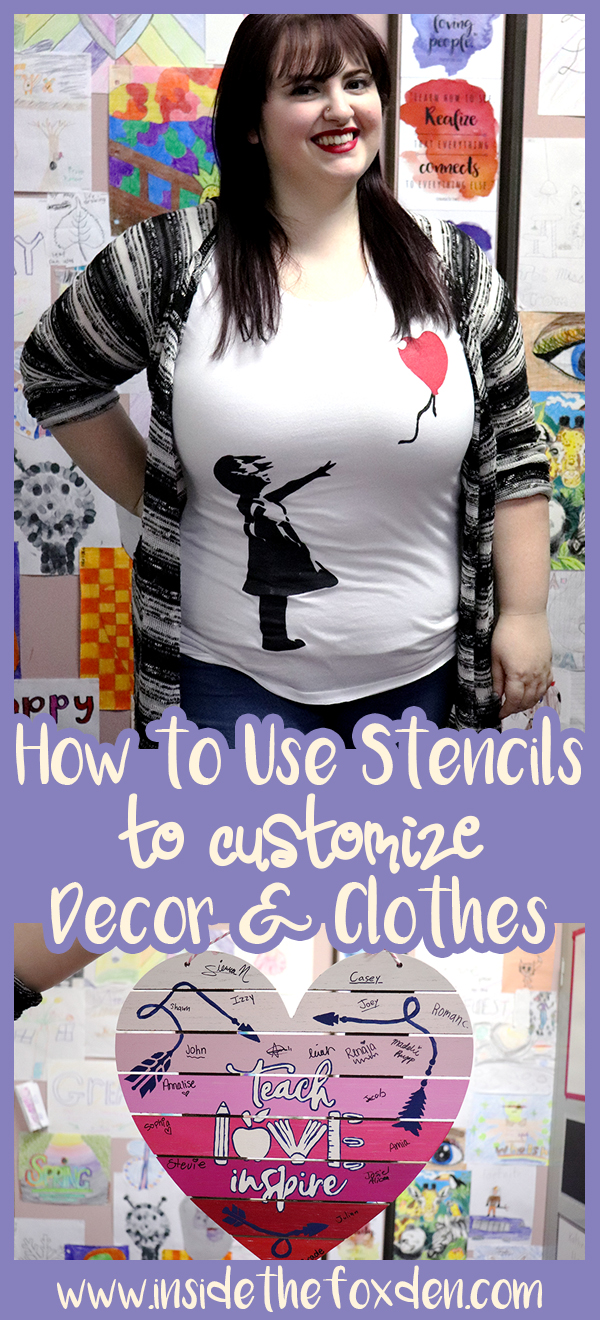 ---
Liked this stenciled DIY project?
Check these other posts!