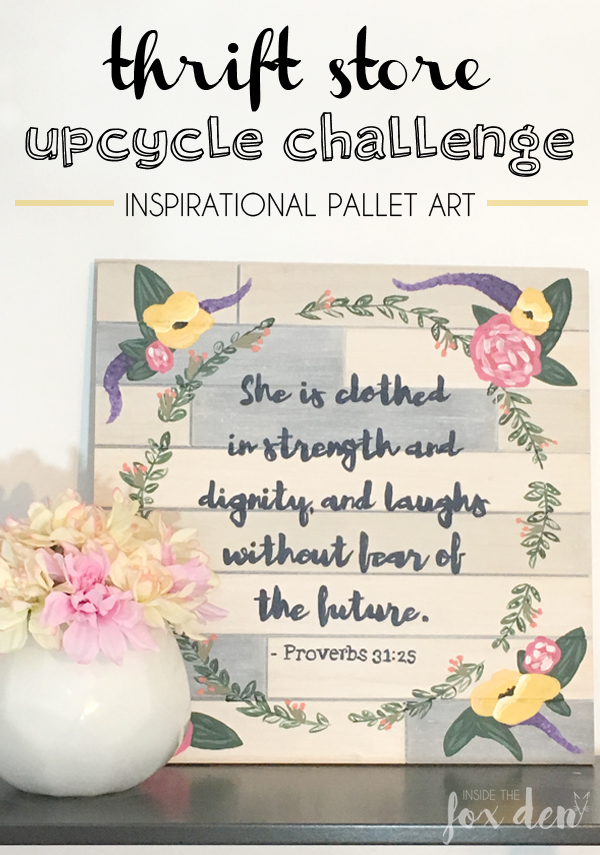 Hi friends,
Spring has sprung and this upcycle is definitely inspired by it! Check out how you can make your own inspirational pallet art below!
The Rules:
Upcycle an item(s) from a thrift store, resale store, or garage sale into a new piece of decor.
There's no monthly theme.
There's no budget to stick to.
Meet the Hosts!
Amanda | The Kolb Corner Maureen | Red Cottage Chronicles Kim | Made in a Day Dru | Polka Dot Poplars
Erlene | My Pinterventures Colleen | Life on Kaydeross Creek Pili | Sweet Things Shirley | Intelligent Domestications
Ann | Duct Tape and Denim Debra | Shoppe No. 5 Marie | DIY Adulation Chelsea | The Johnsons Plus Dog
Jes | My DIY Envy Lindsay | Crazy Organized Molly | Just a Little Creativity Ashley | 3 Little Greenwoods
Kimm | Reinvented Michelle | Our Crafty Mom Ali | Home Crafts by Ali Sue | A Purdy Little House
Chelc | Inside the Fox Den Sara | Twelve on Main Claire | Pillar Box Blue Kim | Farmhouse Made
Victoria | Dazzle While Frazzled Sherry | Savvy Apron Jennifer and Vicki | 2 Bees in a Pod Lora | Craftivity Designs
Megan | C'mon Get Crafty Denise | My Thrifty House Toni | Small Home Soul Deborah | Salvage Sister and Mister
Jeannee | Shepherds and Charnonnay Sue | A Purdy Little House Medina | Grillo Designs
---
To be completely honest, I had a whole different upcycle planned for this month. But the snow is gone (at least temporarily here in PA) and I have Spring on the brain. I wanted some new art and I wanted it to be Spring inspired. So I headed to Sal Val to figure out if anything would work.
I found this pallet looking piece of wood and was instantly drawn to it. I have no idea what it was in a past life (it has hot glue all over the back) so…idk. But it would work for me!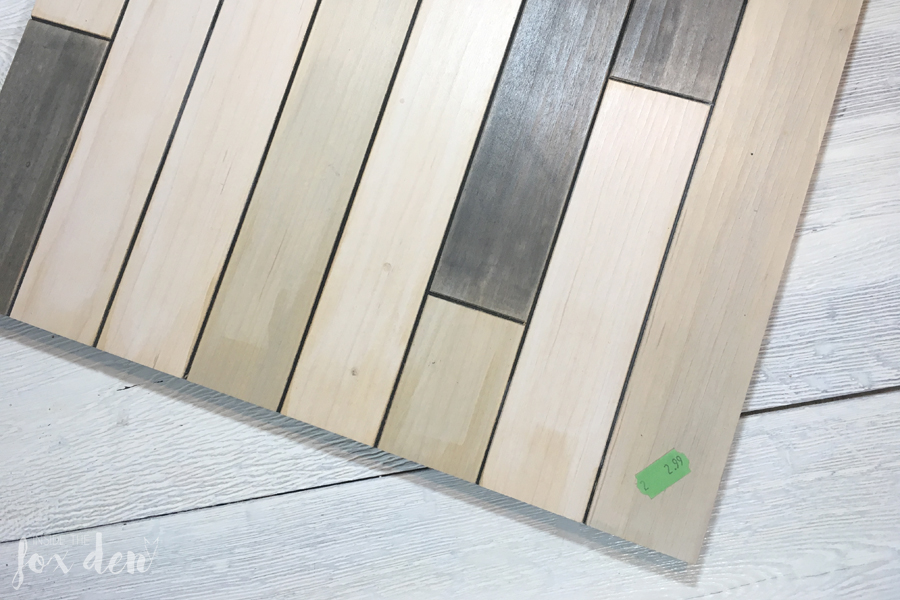 Supplies
pallet wood / wooden plaque
chalk paint
verse printout (optional)
scissors
tape
dark chalk
pencil
acrylic paint
paintbrushes
Instructions
1. I liked the look of the wood, but some of the pieces were really dark. So I decided to give it a light whitewashing by adding water to the chalk paint. I applied a few layers of watered down paint and I just love the finish of it!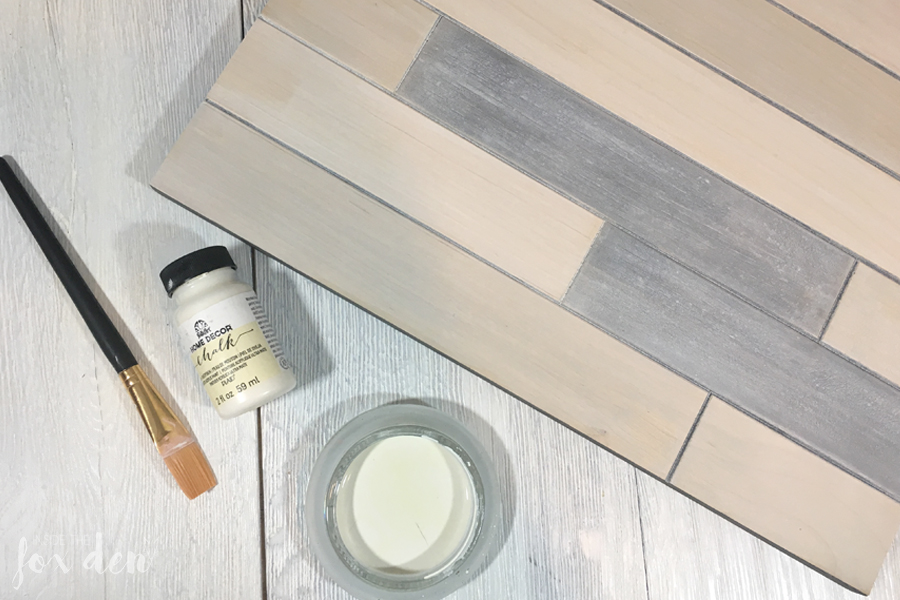 2. Because I tend to be a bit anal when it comes to spacing, size, and alignment, I decided to create my design on the computer first so I could edit it there and print it out and transfer it. If you'd like to use the same verse / layout that I did, you can find it here. It is sized for 16″ x 16″, but you can totally resize it if you need to.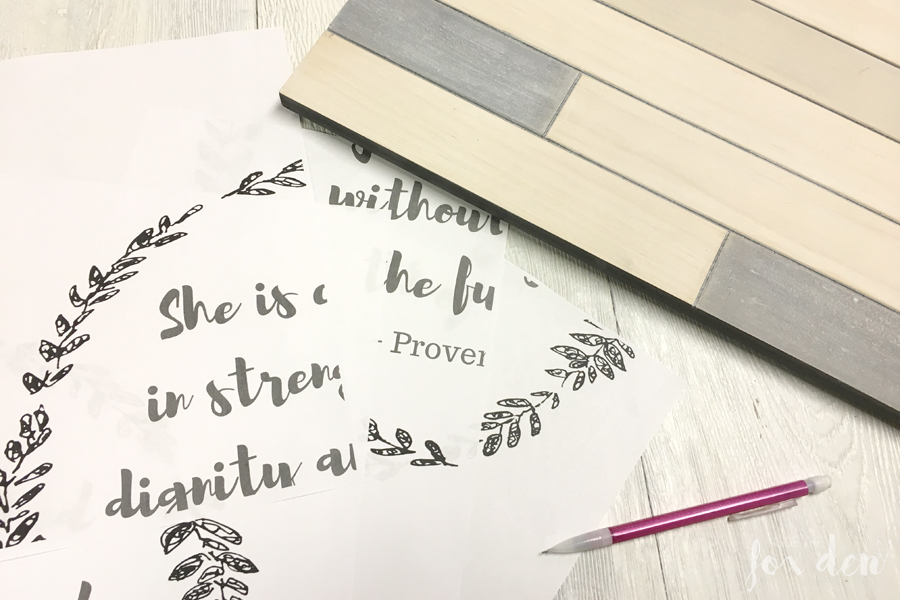 3. It printed out poster style so it was in 4 separate pieces. I taped them together and made sure each piece aligned with the other. I flipped the paper over, covered the whole back with a dark colored chalk (graphite pencil would work too), and then taped it into place on the pallet.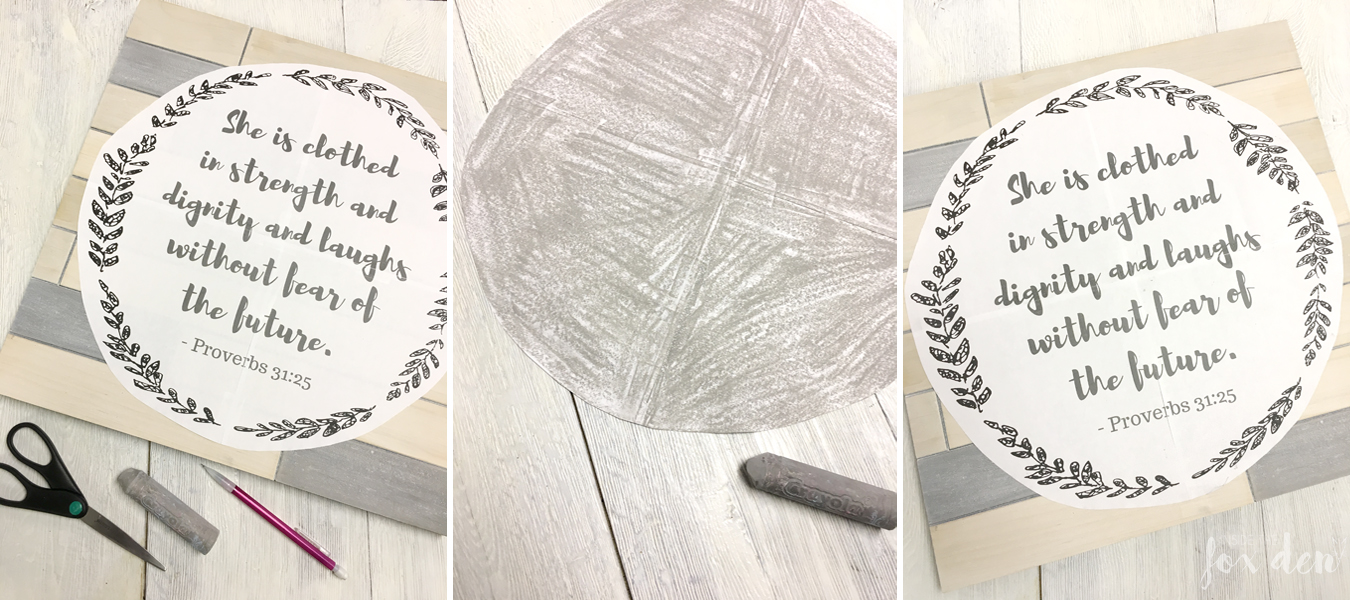 4. I've used this transfer method a couple times in previous posts (you can find them here and here) and it is so smart and so easy. Once I covered the back with chalk and taped it into place I began tracing over the outline of the words and where I wanted the leaf border.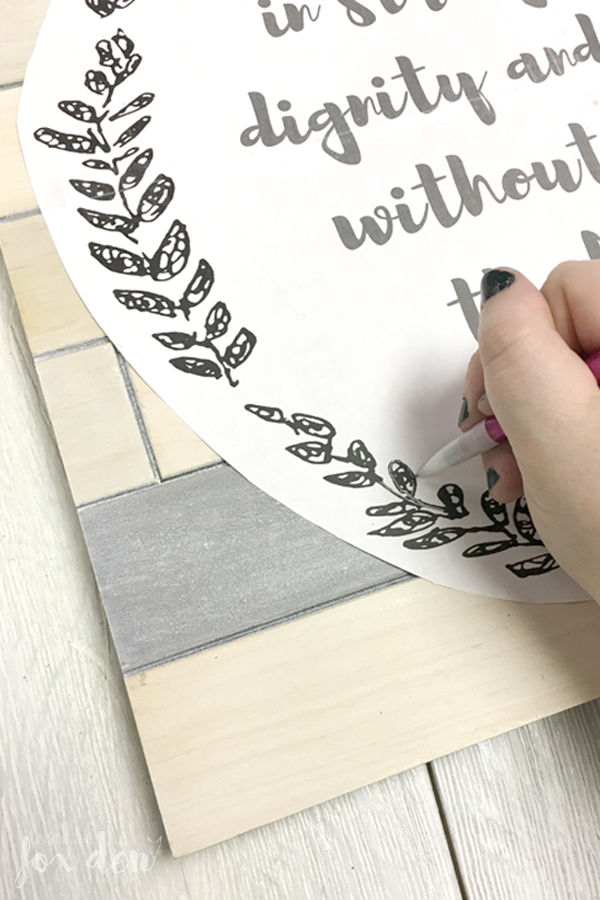 5. You should be applying a bit of pressure when you do it (but don't go through the paper!) and the chalk will transfer where you traced. I like using chalk because it's a super easy clean up when you're done painting, or if you happen to make a mistake.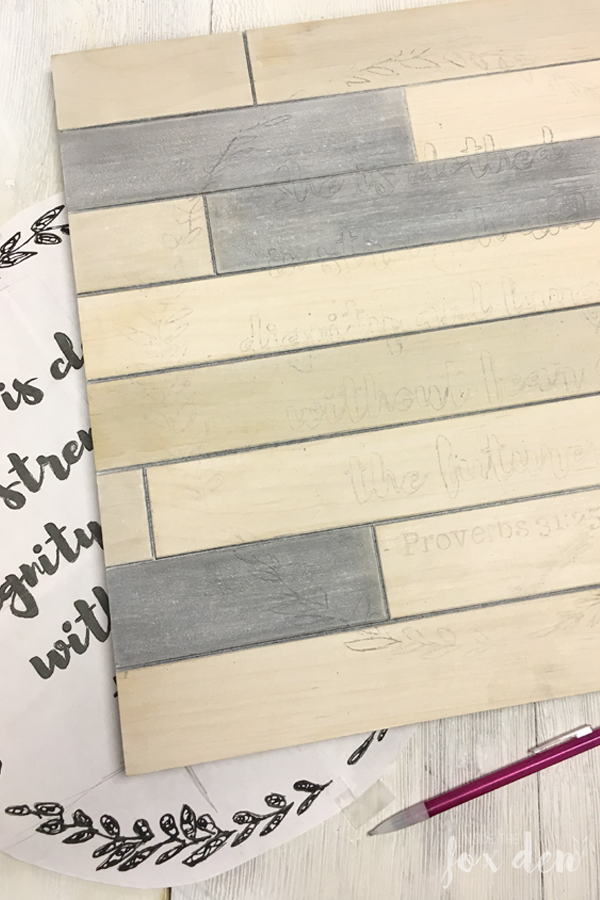 6. I have an obsession with the colors navy and emerald. But I like them to be suuuuuper dark. I decided to make the font dark navy.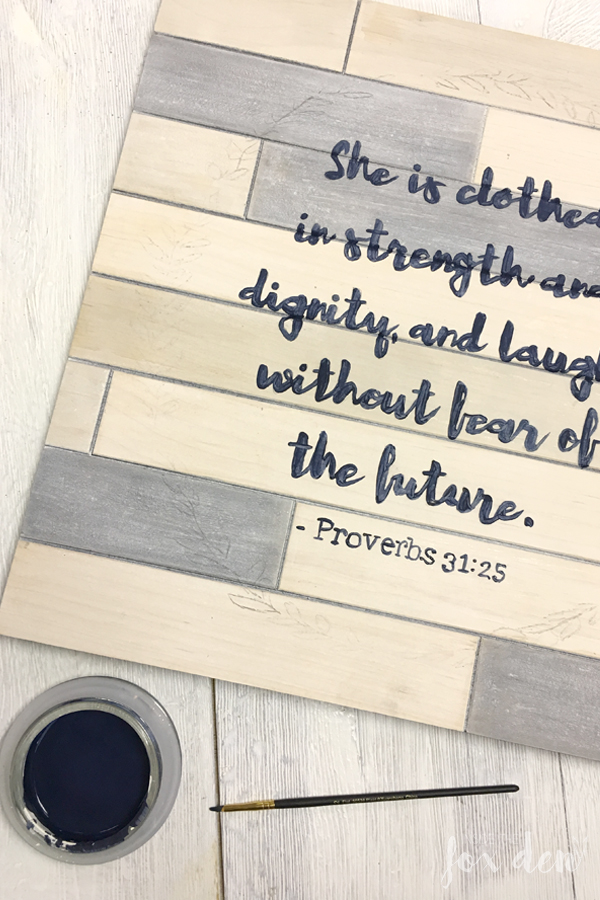 7. And the leaves a dark emerald.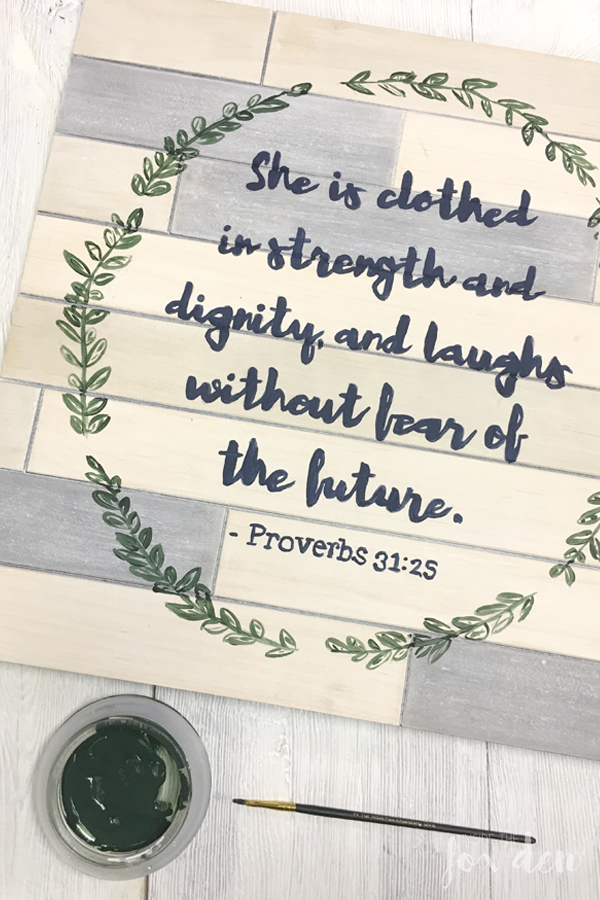 8. I liked how it looked when I finished the leaf border, and I honestly could've left it like that. But I wanted it to be a bit more Spring-y. I decided to add small flowers to the border and paint flower clusters in each corner to add a bit more color to the piece.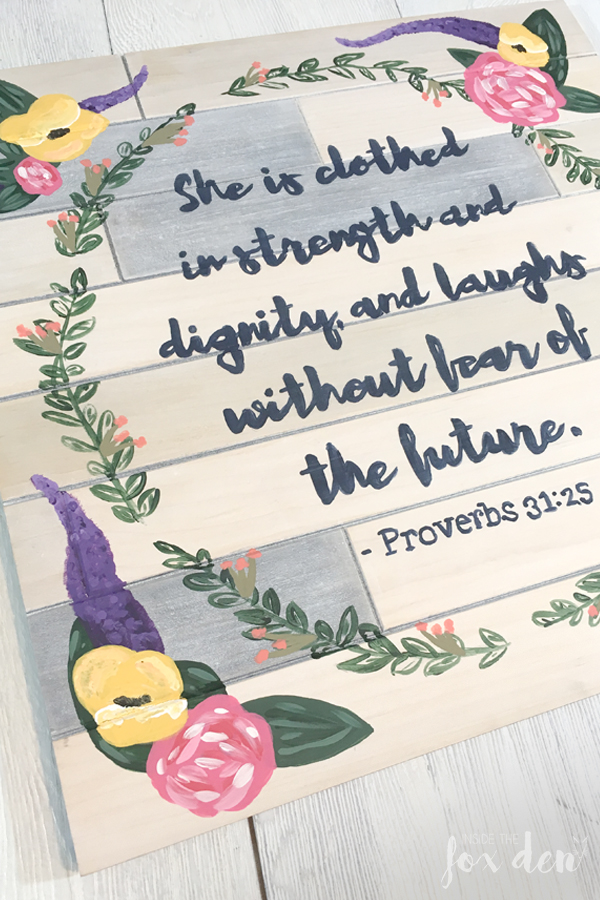 I added it to the vingette on the shelves above my bed and I'm just obsessed! I'm probably going to need to add more Spring-y things, but it's a start!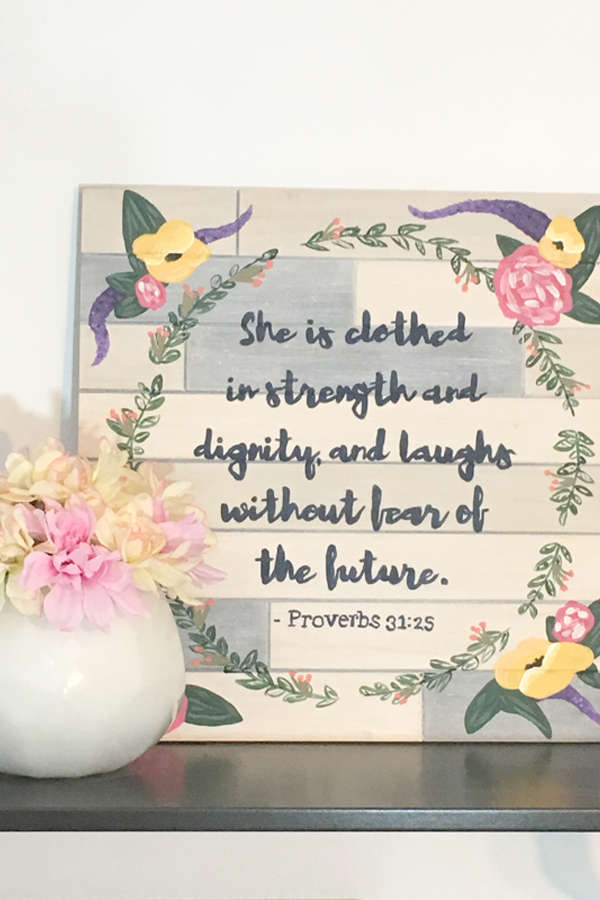 Are you guys excited for Spring? How are you decorating your spaces?
---
And now for more thrifty goodness!
Check out what my fellow upcyclers created below!